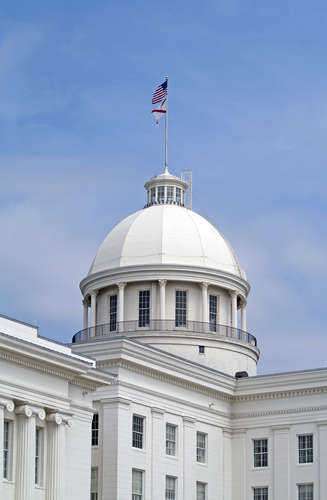 What is the Alabama Judicial Building?
The building in Montgomery houses the Unified Judicial System, and the building is still referred to as the Heflin-Torbert Judicial Building. It houses the Supreme Court of Alabama, the Court of Civil Appeals, the Court of Criminal Appeals, and the State Law and Supreme Court Library. Tourists are known to admire the state building's neoclassical architecture.
Glassroth v. Moore
The famous "Ten Commandments Case" involved the Alabama Judicial Building after Chief Justice Roy Moore of the Alabama Supreme Court installed a 2 ½ ton monument of the Ten Commandments without notifying any of the other justices.
A group of lawyers sued Chief Justice Moore because they claimed their clients may not receive fair hearings because of Moore's personal religious beliefs. The lawyers claimed that Moore's actions violated the First Amendment's Establishment Clause in the U.S. Constitution which calls for a direct separation of church and state.
The case concerning the Alabama Judicial Building was eventually brought forth in front of U.S District Court Judge Myron Thompson and received a huge amount of media attention. Myron ordered the removal of what he called "a religious sanctuary within the walls of a courthouse," and the case was appealed by Moore.
The case was affirmed in the Eleventh Circuit Court of Appeals on July 1, 2003. Moore continued to refuse taking down the monument at the Alabama Judicial Building, and he was eventually suspended as Chief Justice. The justices ordered that the monument be removed on August 27, 2003, and Moore was removed from office due to ethics violations in November of 2003.
Alabama Judicial Building Information
You can reach the separate Courts at the phone numbers below:
Supreme Court: 334-229-0700
Court of Civil Appeals: 334-229-0733
Court of Criminal Appeals: 334-229-0578
Administrative Office: 334-954-5000
Comments
comments